Fulfill Your Dreams: Children's Book Author Vivian Kirkfield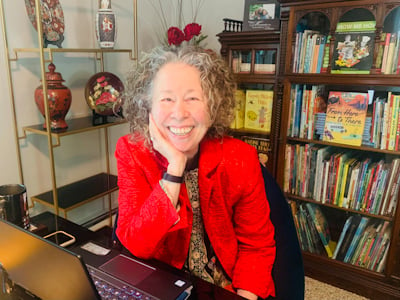 What is your spark? This profile is part of a summer series on New Hampshire dreamers and leaders.
Vivian Kirkfield knows you're never too old to dream.
A retired kindergarten teacher and grandmother, Kirkfield wanted to be an author of children's books for the next stage of her life. For her 64e birthday, Kirkfield's son gave her an unusual gift, and she says the experience has made her realize that it's never too late to make her dreams come true.
"He took me skydiving," Kirkfield says. "It was a great experience – and the best part was when my feet hit the ground I knew that if I could jump out of a perfectly good plane, I could probably do just about anything. And immediately, I jumped into the child-lit world the same way I jumped off that plane – with all my heart.
After making his decision, Kirkfield signed up for classes, attended lectures, and wrote many stories.
"I was fortunate enough to get in touch with a wonderful agent who fell in love with the manuscript I sent him," she says. "She offered to represent me, sent it on tender, and it was acquired within two months. Sweet Dreams Sarah: From Slavery To Inventor became my first picture book in 2019. "
And she continued to write, publishing several books over the next two years: Four Otters Toboggan: An Animal Counting Book. Then, Pippa's Passover Plate, and Making their voices heard: the inspiring friendship of Ella Fitzgerald and Marilyn Monroe and From here to there: inventions that changed the way the world moves. His next article, a biography of a non-fiction picture book, PEDAL, BALANCE, STEERING: Annie Londonderry, first woman to cycle around the world by Boyds Mills & Kane, will be released in the spring of 2024.
Kirkfield's picture books have received accolades including the Silver Eureka, Social Studies Notable Trade Book, and the Junior Library Guild Selection. Today, Kirkfield is dedicated to encouraging and mentoring others to achieve their dreams. She enjoys visiting schools and encouraging students to make a difference.
Kirkfield says that when it comes to making your dreams come true, the most important thing is to truly believe that you can do it. His mantra is, "Nothing is impossible if you can imagine it. "
"If someone had told me 10 years ago that my books would be in schools and libraries and kids would read stories I wrote, I probably would have said that was impossible," says -she. "But, once I had the dream in my head and in my heart, I was able to take steps to make it a reality. I am living my dream and now my mission is to help others live their dream whether they are 6 or 60 years old. Children have dreams. We need to empower them, so that they can believe that they can have dreams. We want to inspire them and arouse their curiosity. We need to encourage children to have hopes and dreams.
And for anyone who wants to pursue a new direction, she has steps to help provide guidance.
"I think succeeding in any project is like making pizza – there are certain steps you need to take," she says. "And this is true no matter what dream you pursue, whether you want to become an astronaut, whether you dream of singing at the Metropolitan Opera, or considering becoming a picture book author. I call these stages the 5 Ps: Passion (loving what you do), Practice (working), Preparation (taking classes / studying), Patience (being willing to devote time), Perseverance (never giving up). And surround yourself with positive people who believe in you.
Kirkfield has traveled the country twice and loves living in the Granite State.
"New Hampshire is beautiful – rolling hills, dense forests and sparkling streams," she says. "But what attracted me here was my daughter and her family."
She says her favorite place is the Lake Winnipesaukee area. She and her family stayed in a cabin at Auberge de la Ferme Ames.
"You stepped out of the door – straight onto the sand," she said. "And you fell asleep to the sound of the waves lapping on the shore. I would come back without hesitating.
The most important thing Kirkfield would like people to know and remember: "We've been through a rough time, but I'm encouraged by so many acts of kindness that I hear about. And I try to do my part by continuing to write stories that will inspire kids to believe in themselves, follow their dreams, and reach out to help others. The only failure is not to keep trying. If you keep trying, you won't fail.
To connect with Vivian and learn more about her books, visit VivianKirkfield.com.