'Healing From Gunshots' Author Tells Her Survival Story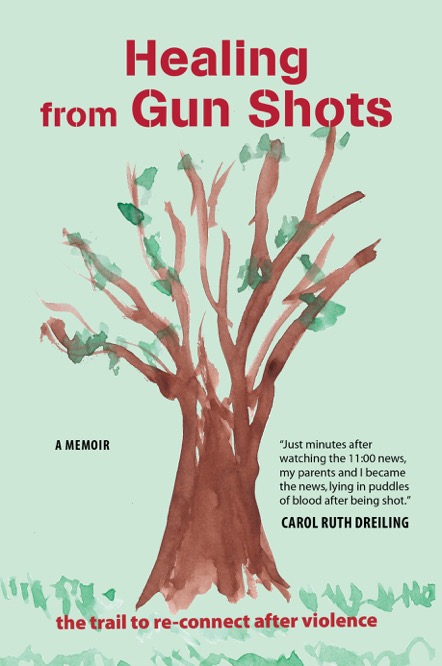 After physically healing after being shot 7 times, Carol Ruth Dreiling understands that the ongoing struggle to live a "normal life" is for some shooting survivors. In her book, Carol Ruth Dreiling tells her own story of gunshot survival and what it was like to recover from the double murder of both parents and being shot in a home invasion.
As a teacher and caregiver to children for 60 years, Carol Ruth Dreiling, author of the book "Healing from Gun Shots" is appalled at the rate at which young children die from gun violence in America.
As the avalanche of shootings repeats itself and the trauma of these mass shootings spreads across the country, Dreiling shares her own story of surviving gun violence and what it was like to recover from the double murder of both parents and 7 gunshot wounds. .
In 1975, it was rare. Not anymore…
Dreiling says, "I know extreme gun violence personally, and the impact that violence can have on your body, your family, and your life in the future. I know that healing from the gunshots has – for me – been a 25 year struggle to get better both in mind and spirit.
Dreiling says she has no illusions about dealing with the trauma that gun violence leaves behind. "We have a huge and horrible problem in our country. Guns keep killing again and again and again. When is enough? " she asks.
When Dreiling hears about the many shootings, she struggles to keep her own PTSD (post-traumatic stress disorder) at bay.
But in Dreiling's "Healing from Gun Shots: The Trail To Re-Connect After Violence," she explains:
• How she was able to recover from her gun violence trauma,
• Show other survivors how they can move through the dark tunnel to find a way to heal,
• Share with his years of quest to overcome the nightmare of gun violence
Readers of "Healing from Gun Shots" tell Dreiling that his book has helped them deal with the many painful emotions caused by death, trauma, grief, or loss from gun violence.
About Carol Ruth Dreiling
After surviving 7 bullets, Carol Ruth Dreiling now lives near Asheville, North Carolina and is involved with organizations such as Parents of Murdered Children and Other Survivors of Homicide, Our Voice, a sexual violence and rape based in Asheville. , as well as Helpmate, a local domestic violence advocacy and crisis intervention organization. Dreiling currently lives with her husband, Pete Whelihan, and grows gourmet mushrooms for local restaurants. Healing from Gun Shots is his first book.