Local children's author finds inspiration close to home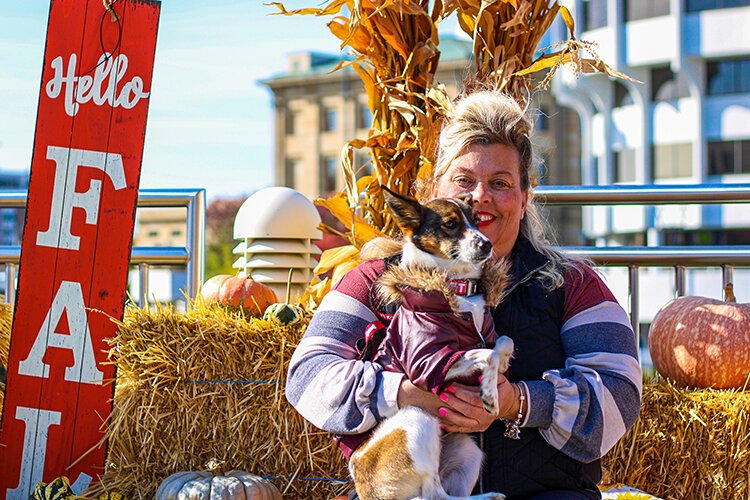 For an artist or a creative, inspiration can come from anything and sometimes that inspiration is right under your nose.
Penny Roskey, author and Clyde Township resident, is creating a series of children's books based on one of her favorite four-legged friends. Remi is a rescue pup, a Kentucky State Shetland Sheepdog mix. Jazmyn Thomas, Roskey's daughter, is Remi's landlady or "mommy" as they like to joke.
"The book is about my grandfather Remi because he's so adorable and I love him, so I made him a superhero," Roskey explains.
The plot of the first book in the series "The Reminator 2 And B-Yond" sees Remi living on a farm in Kentucky and meeting his "grammy" for the first time. Remi discovers he has superpowers inherited from his father's line, and in his new home with "grammy" begins his superhero training to fulfill his destiny of greatness.
"The first book is pretty much his [Remi's] origin story and finding out who he is growing up," Roskey says. "The following books will expand on this as he begins to understand and use his powers for good."
The children's book "The Reminator 2 and B-Yond" is the first in a series of books that follows the adventures of super-powered puppy Remi.
Roskey, who goes by the pen name "Pen R. Mark," says she always wanted to be an author.
"At school I spent most of my time reading and I always loved children's books, so when Remi arrived it really inspired me," she says.
Roskey was inspired to complete the project following a tragic event in her life, so last year she began working towards her dream.
"I always talk about doing things, but I never follow through," Roskey says. "My friend passed away in December last year, and that motivated me to finish the book. I think it's something that needed to be done."
The book is edited by his daughter and illustrated by his son Marcus Thomas.
"Every image in the book is based on real places that our family has a connection to," Roskey says. "The weeping willow in the book is actually from Jazmyn University. I spent time under this tree when I went to visit him.
You can find Roskey with his book at Birchwood Mall in Fort Gratiot during the Holiday Market Craft Show on November 26. She will have a book release and signing at Great Lakes Gaming which is also at Birchwood Mall on December 10th. The book is also available for purchase online at Amazon and Barnes & Noble.